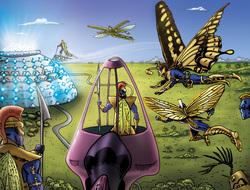 THE INHERITORS ARE NOW AT INDIEGOGO!
You can find THE INHERITORS comic book fundraising at indiegogo.com as well as at Kickstarter. You can still be a part of helping our epic graphic saga reach publication by going to those sites and getting involved.
I'm really enjoying bringing this fantastic tale to life and can't wait to present it to you. Here is the link to Indiegogo if you'd like to check it out.
http://www.indiegogo.com/theinheritors_
All the best,
Anthony Wayne Pettus