HERE IS THE COVER OF THE NEXT BOOK FROM ANTHONY WAYNE PETTUS

ANNOUNCING: ASTONISHING NEW UPCOMING ADVENTURE AND SCIENCE FICTION LITERARY NOVELS for 2016 & 2017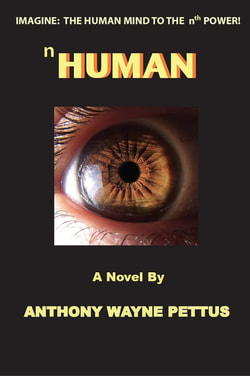 LOOK FOR THIS BOOK AT CHRISTMAS TIME


COMING THIS WINTER IN 2016:
"It comes without meaning, it departs in darkness, and in darkness its name is shrouded" ---- Ecclesiastes 6:4
by
Anthony Wayne Pettus

This new Young Adult Science Fiction story is about a homeless teenage girl with a troubled past who flees a dark gaseous creature with the power to destroy anyone who gets in its way. That's only an inkling of the astonishing secrets that will unfold as she discovers what it means to be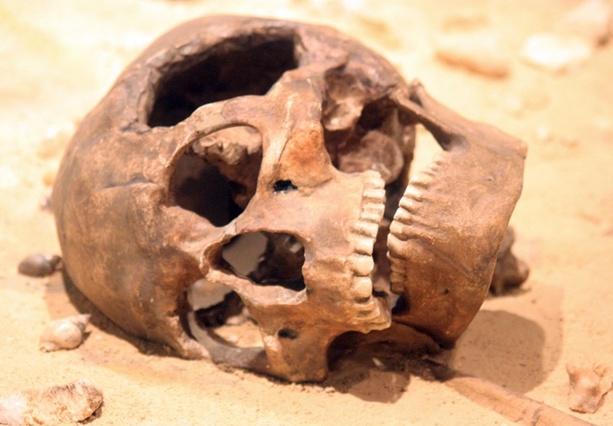 ---
SOJOURNER

THIS NOVEL IS TOP SECRET! I AM HARD AT WORK RESEARCHING AND WRITING A BOOK SET IN THE PAST THAT WILL CAPTURE THE IMAGINATION OF THE WORLD. WHAT IS ESPECIALLY GREAT IS IT IS STEEPED IN TRUTH OF PEOPLE, EVENTS AND PLACES THAT WILL CHANGE THE VIEW OF HISTORY. WHEN I FINALLY REVEAL THE TITLE, LOOK FOR IT IN LATER IN 2017 AVAILABLE ON AMAZON
_____________________________________________________________________

AND COMING EARLY IN 2017

THIS UPCOMING SCIENCE FICTION NOVEL IS A FRIGHTENING EXPOSE OF WHAT COULD WELL BE OUT THERE IN THE UNIVERSE THAT IS BEYOND OUR SCOPE OF COMPREHENSION AND THAT WE ARE TOTALLY UNPREPARED FOR AND CANNOT COPE WITH.

ARTHUR C. CLARKE ONCE PARAPHRASED J.B.S. HALDANE SAYING, "THE UNIVERSE IS NOT ONLY QUEERER THAN WE IMAGINE, BUT QUEERER THAN WE CAN IMAGINE!"

PREPARE FOR A VOYAGE INTO THE INCOMPREHENSIBLY VAST UNKNOWN WE CALL OUR UNIVERSE WHEN YOU
BEHOLD! SOLARIUS
PUBLISHED BY IMPETTUS LLC
EXPERIENCE THE MAJESTY AND THE MENACE IN 2017 --- WILL HUMANITY SURVIVE?
SOON AVAILABLE ON AMAZON
_____________________________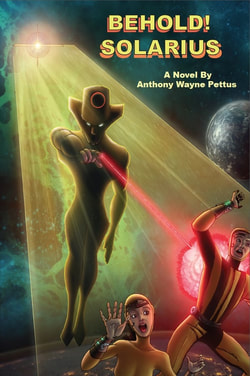 | | |
| --- | --- |
| WHAT IS OUT THERE IN THE UNIMAGINABLE VASTNESS OF THE UNIVERSE? A GROUP OF ABDUCTED HUMANS WILL SEE WHAT IS OUT THERE DURING A VOYAGE ON A FANTASTIC SUN SHIP WITH CELESTIAL BEINGS FAR MORE ADVANCED WHO SEE THEM AS MERELY A PRIMITIVE FORM OF LIFE. HOW DO THEY COPE AND HOW WILL THEY SURVIVE THIS ADVENTURE THROUGH THE GALAXY? READ BEHOLD! SOLARIUS AND PREPARE TO EXPAND YOUR SENSES. | ____________________________________________ |

WE PROUDLY PRESENT
THE INHERITORS

HOME OF THE GREATEST EPIC EVER TOLD!!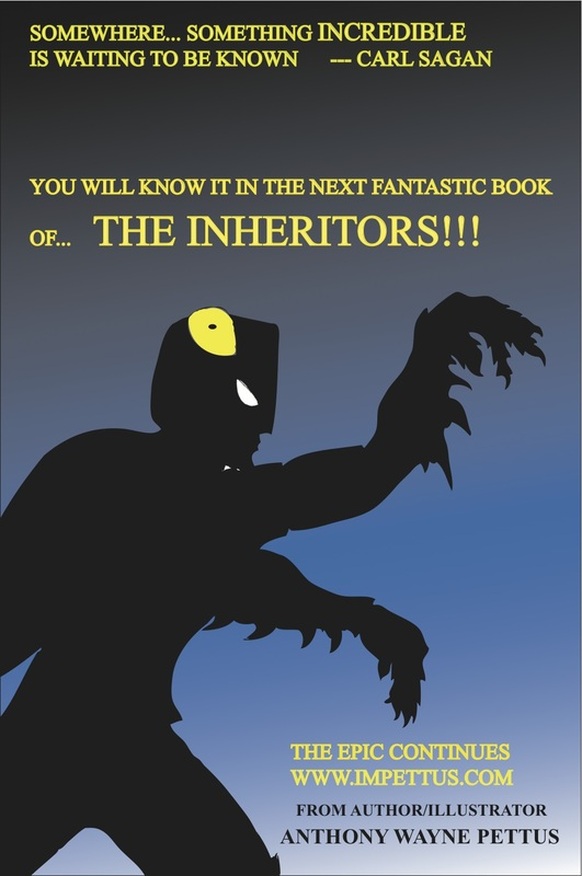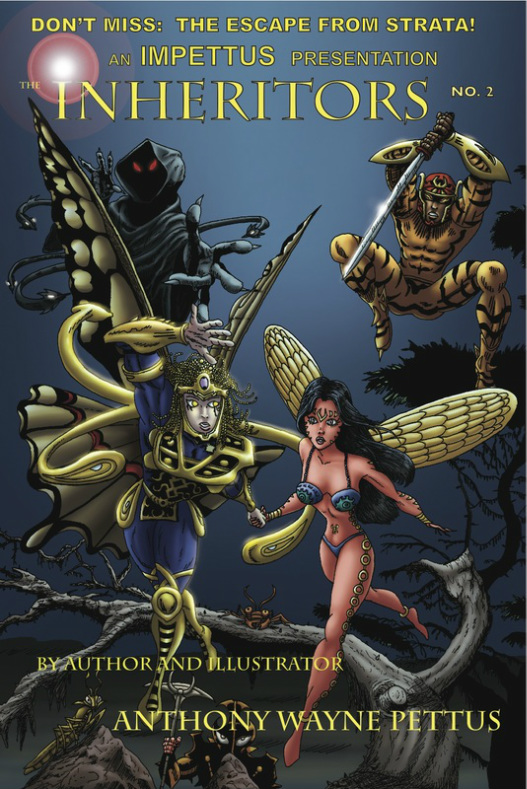 THE INHERITORS
ISSUE #2: THE ESCAPE FROM STRATA
THE SECOND BOOK IN THE SERIES
IN OUR SECOND BOOK,
UNDER AN ORDER OF EXECUTION, PRINCE ZEN AND HIS LADY FAYAWAY MUST FLEE THE KINGDOM OF STRATA AND LEARN TO SURVIVE IN THE SAVAGE LAND BEYOND ONLY TO FIND THEY ARE TRAPPED BY MASTER ZELUS BILOBUS, THE DREADED LEADER OF THE
MYSTERIOUS CLAN OF ASSASSIN BUGS.
ALSO
INTRODUCING: A NEW FEATURE STORY IN THE INHERITORS #2
THE IRREPRESSIBLY, FEARLESS --- ARMY ANT!!!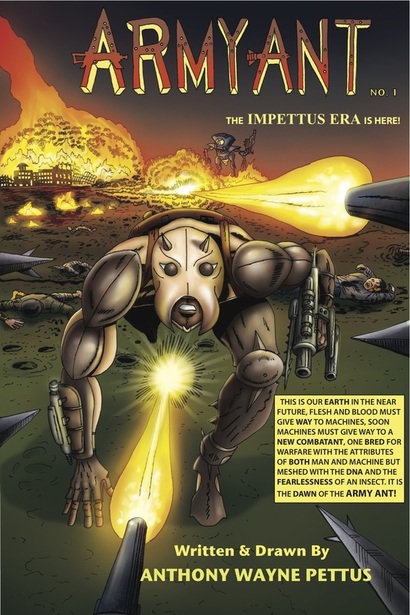 THE IMPETTUS ERA IS HERE!
YES, INTRODUCING: THE FEARLESS ARMY ANT WILL BE THE BACKUP FEATURE IN THE EXPANDED THE INHERITORS #2 EPIC SAGA BUT IT TAKES PLACE NOT ON ENTOMO, NOT IN THE REALM OF THE INHERITORS, BUT HERE ON EARTH IN OUR VERY FRIGHTENING NEAR FUTURE. IT IS THE NEXT WAR THAT'S COMING WHERE MACHINES HAVE SUPPLANTED MAN AS WEAPONS OF WAR, CITIES ARE LAID TO RUIN AND ONLY AN EXPERIMENTAL MELDING OF MAN AND THE DNA OF A WARRIOR ANT SPECIES STANDS IN THE WAY OF THE MECHA DOMINATION OF THE WORLD!

ARMY ANT, THE ULTIMATE SURVIVOR, WILL BE A CHARACTER LIKE NO OTHER AND IF THE PUBLIC DEMANDS IT HE WILL GET HIS OWN BOOK! SO YOU, THE READER, WILL DECIDE. THE FEARLESS ARMY ANT NEEDS YOUR SUPPORT!

YES, MORE PAGES, MORE DANGER, MORE EXCITEMENT, AND MORE SURPRISES FROM THE INNOVATIVE HOUSE

OF IMPETTUS LLC
THINGS ARE GOING TO GET CRAZY!
---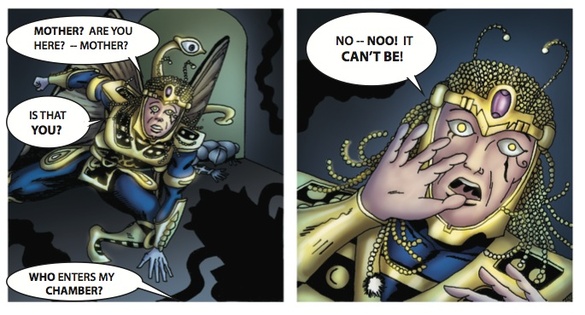 SEE: PRINCE ZEN FIGHT HIS WAY TO THE CHAMBER OF THE QUEEN, HIS MOTHER, TO GET A STAY OF EXECUTION FOR HIS LADY LOVE, THE MAID NAMED FAYAWAY.


PRINCE ZEN WILL FINALLY SEE THE DARK SECRET WHICH CAN NEVER BE REVEALED TO HIS PEOPLE --- AND WILL SET FORCES INTO MOTION THAT WILL CHANGE HIS FUTURE FOREVER --- IF HE EVEN HAS A FUTURE.
---
SEE: THE MYSTERIOUS LAND OF THE VINE MEN OF VARIQUE FOREST
THESE AMAZING BEINGS APPEAR IN THE INHERITORS BOOKS 2 AND 3
HERE'S A LINK TO AN ARTICLE WRITTEN BY THE SAN JOSE MERCURY NEWS ABOUT THE INHERITORS AT OUR BOOTH AT THE BIG WOW! COMIC CON
http://wwwhttp://www.mercurynews.com/breaking-news/ci_25789442/old-school-comic-books-face-digital-future.mercurynews.com/breaking-news/ci_25789442/old-school-comic-books-face-digital-future
BY THE WAY
MEET: ANTHONY WAYNE PETTUS AT THE NEW YORK COMIC CON ON OCTOBER 10-13, 2013, SMALL PRESS AREA, IMPETTUS ENTERTAINMENT, TABLE 1250. STOP BY AND SAY HEY, BUY AN AUTOGRAPHED COPY OF THE INHERITORS #1, OR JUST YAK AWHILE -- I'D LOVE TO MEET YA!